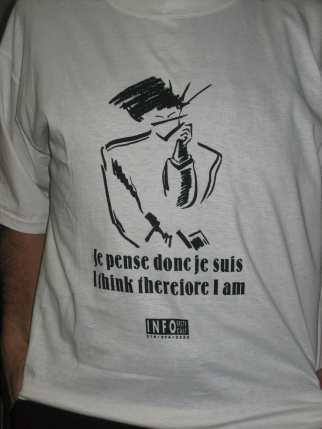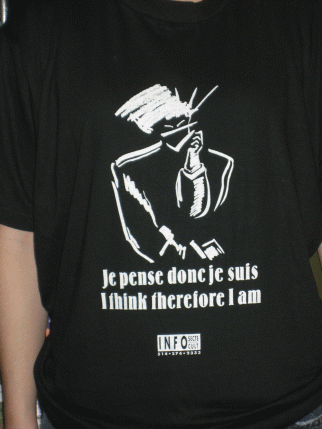 T-SHIRTS
Before ordering please call or email us (infosecte@qc.aibn.com) to be sure we have the size and colour you want. Thank you.
Interested in getting one or more of these T-shirts? They are available in black (with white design and lettering) and in white (with black design and lettering).
These T-shirts are 100% cotton and made especially for Info-Cult by Le Château, one of North America's leading clothing retailers.
Each T-shirt features the "Think" image, including the epigram underneath:

Je pense donc je suis
I think therefore I am
To order fill in the form (in HTML or PDF format) and include a cheque or money order for $25.00 US (Canadian orders may pay in Canadian dollars). This price includes the shirt and shipping and handling charges. Order more than one, and each additional T-shirt is only $19.00 US.
Please allow 4 to 8 weeks for delivery (payment by cheque will take longer than money orders).
All proceeds from the sale of these T-shirts go to support Info-Cult.
---
JUST PRINT OUT THE ORDER FORM AND MAIL IT TO: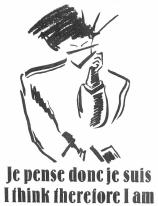 Info-Cult
5655 avenue du Parc, Suite 208
Montreal, Quebec, Canada H2V 4H2
(514) 274-2333, Fax: (514) 274-7576