ABOUT INFO-CULT
Over the last thirty years, there has been an increase in the number of religious, spiritual, political and psychological groups claiming to help people achieve their full potential.
From Info-Cult's beginnings in 1980, we've been educating the public about cults, new religious movements and related phenomena. As the number of groups grows, Info-Cult also grows in its wealth of knowledge and resources.
Often individuals become worried when someone they care about is involved with a group that is unfamiliar to them. With over 25 years of experience, we can help.
Info-Cult is the only group of its kind in Canada.
We are a registered non-profit, charitable organization and we receive our funding from foundations, the Quebec government's Ministry of Health and Social Services, corporations, individuals and through our fees for services.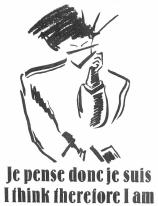 Info-Cult
5655 avenue du Parc, Suite 208
Montreal, Quebec, Canada H2V 4H2
(514) 274-2333, Fax: (514) 274-7576
Back to Main Menu
Français